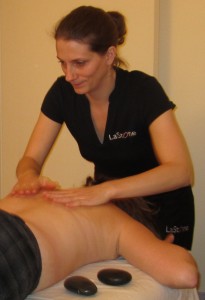 I am educated as a wellness massage therapist at Institut FIGARI in Paris, where I passed my certification exam in January 2008. Shortly after I created my own business, Star Keys Massage and Wellness, I now live in Denmark, with a new massage practice, Body Sentio.
For a short period (half a year or so) I contracted with the concierge service at Alstom Transport in Paris.In August 2010 I started working with the Pilates studio élément in the 6th. The big change came in January 2011 I finally found my own space in the 8th in Paris. Here I had the opportunity to fully incorporate all my skills to provide "Wellness for Body and Soul".
During the summer of 2011 élément changed owner and name to Rituel, In January 2012 my lease in the 8th was cancelled and I moved my private clients to Rituel in the 6th, where I am now busy with their clients, my own clients and the members from Paris Fit – a half and full marathon runners group.
In August 2009 I attended my first LaStone® course in England, learning the foundation of Geothermal Therapy and how to work with stones.I was instantly hooked and knew this was the area of bodywork I wish to specialise in. I took the  Deep Stone course from LaStone® in April 2010, expanding and honing my Geothermal Therapy deep tissue massage skills. Soon after in September 2010 enjoyed LaStone® Sacred Strokes course, becoming the first Advanced LaStone® Therapist in France. And in June 2011 I underwent the training to become an Instructor for LaStone® teaching Original Body in France. I am now the manager of LaStone® France. My responsibilities include organising and teaching courses and workshops in both France and Denmark.
My time with Jenny Ray, a Santee Dakota Sioux Shaman also known as White Bear Medicine Woman, taught me several shamanic Wellness methods and Native American ceremonies. I include these teachings in both my professional and my personal life.
My dreams include creating a wellness resort for personal development and healing; combining bodywork, creativity, coaching and spirituality into a holistic melange that can help people find their unique place in the world. My goal is to help people find their own wellness and reach their dreams. My tools include the internet and blogging, giving wonderful massages and touching people's lives.
"We are not healers, but facilitators of healing and wellness. In order to truly heal, we need to address all aspects of the ourselves; physical, emotional and spiritual."
I use traditions from the Santee Dakota Sioux nation, and my basalt and marble stones are my companions and helpers on the Journey I have undertaken.