You might ask if it really matters what stone heater you invest in when you do stone massages. There are many heaters out there and it's tempting to buy one that's cheap, especially as stones can be rather expensive as well.
My answer is, yes, it matters and it matters a lot.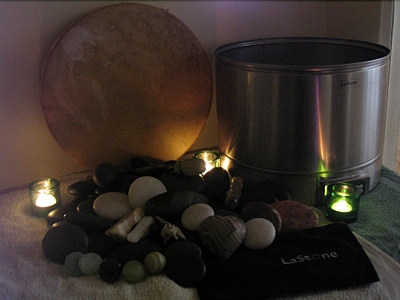 I was fortunate that I started working with a really good heater specially designed for my use and the size and numbers of stones I have. I might not have grown to love working with my stones as I do, had I followed the advice from forums and massage equipment providers. Here you see recommendations for slow cookers, roasters and items like the "Spa Pro Massage Stone Heater".
I have worked with a Spa Pro Massage Stone Heater out of necessity, and I can definitely never recommend that to anyone.The Spa Pro Massage Stone Heater is just a converted roaster, nothing else. If you buy that, you might as well buy a good slow cooker with temperature adjustment.
During my time with the roaster, I've burnt my hands trying to take out stones, the temperature is unreliable and impossible to control accurately and there's just not room enough for my stones. My massage became interrupted as I waited for stones to cool when they were too hot. Other times they weren't warm enough and the client didn't get the full benefit of the temperature I offered. I can't even imagine trying to use a slow cooker which doesn't even have a resemblance of temperature control on it.
The frustration using of an inadequate tool threatened to take away a big part of my enjoyment of working with the stones and it certainly lowers the quality of the massage I give.
So what should you look for when you buy a stone heater?
Size
Make sure it has room enough for all your stones. It shouldn't just be big enough to hold them all, but rather it must be so large that you can organize your stones and easily find the ones you're looking for. Every time you search for a stone, the client misses out on some wonderful treatment.
Having enough space in your heater allows you to use more massage stones at a time, so you don't have to reheat as many stones at a time. Thereby you can give a more fluid and uninterrupted massage. Replacing the stones in the heater constantly lowers the temperature. Which is a problem in a poor heater.
With a large heater you also have the opportunity to use a greater variety of stones in your treatment to address very specific situations. It allows you to heat extra stones "just in case", or even just use each stone once and then place them in a Sacred Symbol on the floor after use.
When your heater is too small, you have to plan in advance what stones to use with your client and often cut that down to a bare minimum. This often means that you're limited in what treatment you give and can't adapt to the current needs of the client. Deciding upon which stones to use when the client arrives is too late. Stones, in a good heater, often takes 20-30 minutes to reach working temperature.
Precise temperature control
This is absolutely essential for your sake and for the sake and safety of the client. Make sure that there's a digital thermometer which ensures that the temperature of the water is always constant. It can change two-three of degrees as the heater turns on and off, but certainly nothing more than that. You should be able to set a temperature and know that the water will never be warmer than that.
I can't stress enough how important it is to be able to control the temperature 100%. Knowing what the temperature is gives you confidence and trust that the stones you take out are always ready to use and will not harm or burn the client.
Depending on the client, you may need to change the temperature. Children, very skinny people, elderly and others with certain contra-indications need lower temperatures. Other people don't like too much heat and lowering the temperature by just 2-3 degrees makes a huge difference in how they perceive the temperature and how their experience is. You need a digital thermostat to control the temperature so accurately.
When using the Spa Pro I have found that by the end of a one hour massage, the temperature has dropped by 10 degrees without changing the settings. So at first the client gets stones which are too hot, and by the end they're too cool. Consequently I have to try and adjust the temperature during the treatment, and I never know how hot a stone is when I need it.
The small differences
Size and thermostat are the two most important factors in your heater and should be your priority. The following is more of convenience and icing that makes the experience just that better.
Free flowing water
The roasters and typical stone heaters have the stones lie directly on the bottom of an insert. This often means that the temperature of the sides and bottom is much hotter than the water, which again means that the stones aren't uniformly heated. Those lying at the bottom or the sides are hotter, and one side of the stone might be hotter than the other side.
By placing the stones on a grate or framework above the heating element allows for the water to circulate around the stones, thereby ensuring a uniform temperature everywhere in the heater. In my heater the heating element heats the water directly – much like an electrical kettle – and the framework ensures that the stones are never in contact with the element and the warmth is evenly distributed.
Easy draining and cleaning
Working with a big heater means working with a lot of water in the heater. Perhaps a full bucket in a large and heavy heater. Even if you're strong enough to lift the heater and empty out the water, it's certainly not doing your back and body a favour doing so. Having a tap on the side which you can open, allows you to empty the heater easily and conveniently.
Easy cleaning of your heater will save you time and work. For example, I use my heater to wash my stones in. When the session is over, I pour soap into my heater along with all my stones and wash them in the hot water. The heater is washed at the same time, saving me time and work.
Looks matters
The heater is an important part of your massage room. The looks of the heater speaks of your professionalism and of quality. Using a slow cooker can send a conflicted signal to the clients of amateurism or of being cheap. So think about the impression you give your clients as well as how your heater suits the decoration and mood of your massage room.
Finally
This article was written due to my frustration and annoyance over using a small and poor heater. Being forced to use something less than what I am used to really opened my eyes as to why it's so important to invest in a good stone heater from the beginning.
It makes a huge difference in how I enjoy giving a massage with the stones, and what treatment quality the client receives. Please don't do yourself a disfavour and buy a converted roaster or slow cooker for your stones, but go out and see if you can find a proper heater that is big enough and where you have a digital thermostat controlling the water temperature.
Do you have experiences with stone heaters and what have you learned from using different types? Please share your thoughts and experiences below.